Online Banking & Bill Pay
Online Banking
Real-Time Transactions
Access your accounts online anytime, anywhere.
Safe and Secure
We use the latest technology and most advanced methods to insure your protection.
Check Your Balances
View your account activity and balance your accounts online.
View Your Statements
See your current and previous statement. Print them out for your convenience.
Make Payments and Transfer Funds
You can even set up automatic payments and transfers so you don't have to worry.
It's Easy
Click here to get started. Or, stop by our offices and take advantage of our member-only computer access, and we'll help you set-up your online account.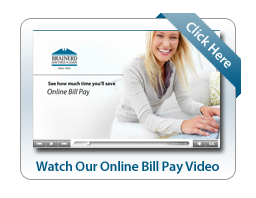 Bill Pay
Saves Time and Money
Pay your utility, credit card, and other bills online. No envelopes to stuff, stamps to buy, or checks to write. Manage your payment dates to avoid late fees.
Lets You Take Charge
Payments are private, secure, and arrive on time. Schedule one-time or recurring payments. Track and view your payment history.
Easy to Get Started
To begin, simply log-in to your online banking account. Click on the account you will use to pay your bills (typically your checking account). Click the blue Bill Payment button and follow the onscreen instructions.
IMPORTANT: Please allow 3 working days for the account to be established, approved, and activated. After that, you can pay your bills anytime, anywhere using the online Bill Pay service.

20%
The percentage of adults who lose or misplace their bills and incur late fees. Late fees average $25 - $50 per late payment. Reduce your desktop clutter and never scramble again to find the "lost bill".